Saturday, May 5, at the Windermere Cup 2018 in Seattle's Mountlake Cut, the Bainbridge Island Rowing Men's Masters 8+ in the 55+/65+ age category squeezed across the finish line a mere five tenths of a second before Station L Rowing, taking the gold. It was a sunny day, perfect for this and other 2018 Boating Season Opening Day festivities.
The BIR women's masters 8+ 45+ edged out Green Lake to take third in their race. BIR varsity teams also competed.
The event, which is in its 32nd straight year, consisted of 23 races featuring more than 800 by-invitation-only rowers. It is sponsored annually by Windermere Real Estate and the University of Washington. The races were followed by the Seattle Yacht Club's Opening Day Boat Parade. This year, the crew from the Dutch National Rowing Team and the men's crews from Oxford Brookes University and the University of British Columbia were invited as the challengers for the highlighted races.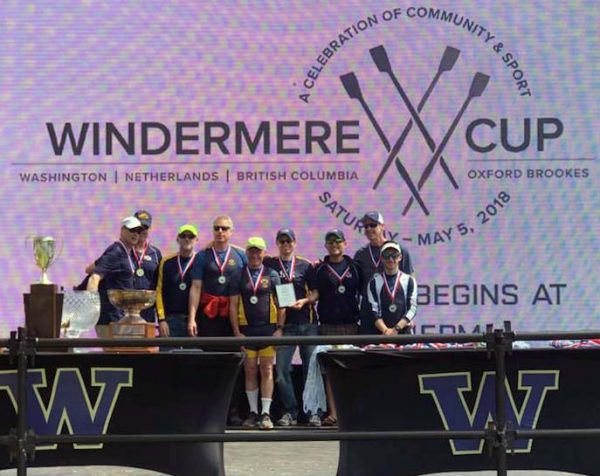 The two featured races pitted UW against the challengers. The University of Washington's No. 1-ranked men beat out the Oxford Brookes team, the British Collegiate champs. Two UW women's crews raced against the Dutch National Team, which included seven women from the team that finished in sixth-place at last year's World Championships. The Dutch narrowly won by about two seats. The last time the two teams met, UW had the victory.
The races take place in the Mountlake Cut between Portage Bay and Union Bay in Lake Washington. A large viewing area lines the race route. Viewers also line up in their boats along a log boom.
The event is preceded on the 4th by the Party on the Cut, which this year featured performances by Groove Surfers, Brian DiJulio & the Love Jacks, and Spike & the Impalers as well as a beer garden, food trucks, and lawn games.
Photos courtesy of Rob Bloom.