BIR Board meetings are typically held at 7:15pm on the 4th Wednesday of each month. Any BIR member with interest is welcome to attend. See your iCrew Attendance Plan or email admin@bainbridgerowing.org for more information. 
BIR is governed by a Board of Directors consisting of a minimum of seven and a maximum of seventeen, voted on by the membership. The Board exercises all the powers of the Corporation according to the BIR Bylaws.
Although all directors are expected to take a broad view of the organization, at least one-third of serving Directors represent Masters (members beyond high school age), and at least one-third represent Juniors and include one Junior rower (a member enrolled in the high school rowing program). Up to two "at large" Directors may be appointed by the Board.
Directors serve a term of two years, without limit to the number of terms served. Terms are staggered so that approximately one-half of the Directors stand for election at every annual meeting. Our custom has been to prepare a slate of candidates well ahead of the annual meeting. Candidate Directors are interviewed and recommended by a separate nominating committee appointed by the Board.
In addition to our monthly meetings, BIR invites our members to join our BIR Annual Meeting (typically held in March). This meeting serves many purposes, several of which are mandated by our BIR Bylaws:
· We review the Financial Report presented by our BIR Treasurer.
· We vote on our  Board of Directors Slate
· We review the challenges and successes of the previous year.
· We vote on our BIR Volunteer of the year
· We connect with, and support each other, because as we all know, we're stronger…and happier together!
In order to vote at our Annual Meeting, you will need to pay your Annual Dues.  Our Annual Dues play a critical role in "keeping BIR afloat" by substantially covering ongoing expenses like:
USRowing organizational membership
Administrative costs including administrative salaries and software
Office and storage rent
So whether you have a Junior rower, or are an Adult rower, Pay Your Dues, Cast Your Vote…And Keep BIR Afloat. Parents, can log onto iCrew and pay your dues by clicking the "My Payments" tab today. Other Adults, join the Adult Members 2023 team and then click the "My Payments" tab.
2023-2024 Board Members
Kris Kutchera – President
Kris grew up in Milwaukee, Wisconsin, where she spent long summers on the water sailing and canoeing. Dreaming of becoming a marine biologist, she moved to the West Coast, where she ultimately pursued a career in information technology after realizing she had no patience for the slow pace of research.
Kris is now retired as vice president of information technology at Alaska Airlines, where she led the team recognized for its award-winning mobile applications, web site, loyalty program and industry-leading airport automation for 10 years. Prior to joining Alaska Airlines, she served as the top information technology executive at F5 Networks, Fluke and Washington Natural Gas (now Puget Sound Energy).
She holds a Bachelor of Science degree in zoology from the University of Wisconsin-Madison and an executive MBA from the University of Washington Foster School of Business. She is passionate about equality and education and she serves on the Board of Technology Access Foundation (TAF) to help low income kids of color realize their potential through STEM education and connections to industry professionals.
Kris moved to Bainbridge Island in 1994 and spent the first 21 years raising her two sons and commuting for work. Since retirement, she is thoroughly enjoying island life and reconnecting with her love of the water. With a little encouragement from some friends at BIR, she took a Learn to Row class and she is now an avid mid-morning master sculler. She joined the BIR Board of Directors and was elected Board Secretary in 2019      

John L. Foy – Vice President
John was born and raised in Miami, Florida, went to college in New England and graduate school in Michigan and then worked in Cincinnati, Baltimore, Bethesda, and Atlanta before moving to Bainbridge Island in 1998. A graduate of Yale University, John has a Ph.D. in computer science and an M.D. from the University of Michigan.
After some initial work in internal medicine and oncology, he spent most of his career working on electronic medical records: first in a cancer center in Baltimore, at the National Institutes of Health in Bethesda, and then at commercial firms in Atlanta and Seattle, before retiring from GE Healthcare in 2012.
At NIH, John managed the information technology department of a research hospital, supporting physicians and nurses in the conduct of clinical trials in a patient care environment. In commercial firms, John was a product manager for physician-oriented software, managing product development teams across sites in both the U.S. and India. In "retirement," he does some consulting, is an avid reader on current events, and frequently drives his wife Paula on her rounds as a visiting nurse for hospice and home care.
John began rowing as a freshman lightweight at Yale and resumed the sport when he discovered the newly founded BIR in 2001. He has been a long-time board member and served as BIR President from 2002 to 2003 and subsequently in various roles (including maintaining the website, photography, public relations, launch fueling), most recently as a Board member again.
John and Paula have a son, a software engineer in Seattle, and two daughters, one a jewelry artist and college instructor in Seattle and the other a Special Agent in Diplomatic Security for the U.S. Department of State, currently serving in Moscow, Russia. Their younger daughter rowed for BIR in its early days when she was at BHS and also coxed her father's boat of masters men.
John rowed with three other BIR "old guys" at the Head of the Charles in 2003 and continues successfully rowing in the "veteran masters" category.

Stacy Nordgren, Secretary
Bio to come.

Melanie Edenholm –  Treasurer
Melanie attended a weekend intensive Learn to Row class in 2015 and was hooked from the start. She jumped into the O Dark Thirty morning sessions the following year and soaked in the wisdom of the years of experience in that group.
Learning a new sport and being coached has been a big part of the fun. Melanie and her husband Eric coached their two sons and daughter from t-ball through high school rec soccer. Melanie's natural herding abilities were useful with coordinating the early morning sessions and as part of the regatta committee.
Raised in Philadelphia, Melanie has fond memories of watching her brother row in high school on the Schuylkill River and visiting Boathouse Row. With an accounting degree from Bloomsburg University of PA, she worked in the Oil & Gas industry and a CPA firm in California and Texas. She and Eric moved to Bainbridge in 1994 to be closer to family. After growing up on the Island, Eric convinced her it was the ideal place to raise kids.
When not on the water, Melanie can be found crunching numbers for her clients, roaming the streets of Winslow with Coconut, or battling the weeds in her garden.

Jennifer Ames-Karreman – Development Officer
Jennifer Ames-Karreman has been on the BIR Board for ten years: two years as Board
Secretary, two years as President of the Board, and her last six-years focused on building
the Development Committee that serves operational funding and the capital campaign. She and her family have lived on Bainbridge Island for 33 years.
Jennifer was a Starbucks executive and worked there for 28 years. She now runs her own
consulting business. Jennifer is a nationally and internationally known speaker on the
subjects of organizational culture and customer connection. She holds a Bachelor of Arts in Communications/Advertising from the University of Washington and also earned an advanced degree certificate from the UW Business School.
Overall, she's known for being a highly collaborative leader who works well with diverse
groups of people at all levels globally. Her career highlights include significant
contributions toward the startup of Starbucks retail business and non-retail businesses,
growth initiatives, and the communications of Starbucks values and business practices. She
was part of the team that crafted Starbucks' mission and principles early on and has led projects that span 42 countries.
Jennifer and her husband Frank love to travel and explore the world with their two adult
daughters Nancy and Anneke. Scuba adventures, hiking, and growing organic veggies in
their garden are activities the family love to do together. Jennifer and Frank helped
chaperone and cook for hundreds of high school rowers while their daughter Anneke rowed for BIR between 2012 and 2016.

Kim Dalan, Adult Program Liason
Despite attending UW for undergrad, Kim only got around to a learn to row program at the ripe old age of 30. Stints at Lake Washington Rowing Club and Lake Union Crew inspired a new passion for being cold and wet among friends. After moving to Bainbridge in 2020, she inevitably found her way to the boathouse and was quickly talked into rowing competitively. Kim is now a proud pansweptual rower who can be found bouncing around any BIR practice that doesn't conflict with after school activities.
Jill Bamburg, Special Projects
Jill has rowed with BIR for about the last 6-7 years and has settled in as a mid-morning sculler. In her retirement, she now claims to be a "triathlete," combining rowing with pickleball and golf to keep herself active. On the board, she is something of a "minister without portfolio," trying to be useful without having a regular set of responsibilities. To date, she has led one round of strategic planning (during COVID) and the task force on implementing the Safe Sport program at BIR.
Before she discovered rowing, she spent (too) much of her time working. Her last gig was as co-founder and faculty of the Bainbridge Graduate Institute (BGI), the first sustainable MBA program in the country.
She is married to Nani Baran, a psychotherapist, and lives in Indianola. Together, they have four adult children, none of whom row. No grandkids yet, but hope springs eternal.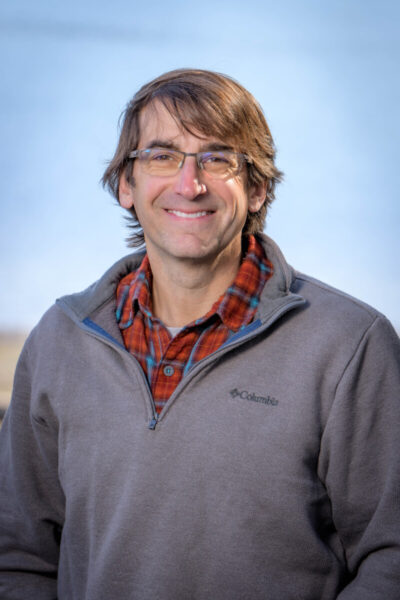 Andrew Block, Junior Parent Board Liason Co-Chair
Andrew grew up just outside of DC in Gaithersburg, Maryland.  He received a degree in Political Science from the University of Maryland, and obtained his J.D. from Emory University School of Law.  He was in private practice in Atlanta for many years with Nelson Mullins Riley & Scarborough before going in-house with a healthcare technology company.  While in Atlanta, he served on the Board of CURE Childhood Cancer, took up photography as a hobby, and was a part of the running community.
Andrew, his wife Michelle, and three children, Liam, Rory Sophia, and Fionn relocated to the west coast and Bainbridge Island in 2017 when Andrew joined the Amazon legal department.  Recently, Andrew joined Expedia Group's legal team.
The family has always loved both the water and the mountains.  This move brought them closer to both and in their free time they are outside.  This past year Liam has followed his mother, who was a coxswain for Emory University, and he is currently coxswain for the novice boys.  Fionn and Andrew play as much tennis as possible.  Rory divides her time between academic, musical, and athletic pursuits.
Andrew continues to develop his photographic skills with the beautiful Pacific Northwest as the backdrop for family and nature photography.  BIR has added sports photography to this endeavor, as well as brought him back to the sport of rowing, which he enjoyed while his brother was a lightweight rower at the University of Michigan.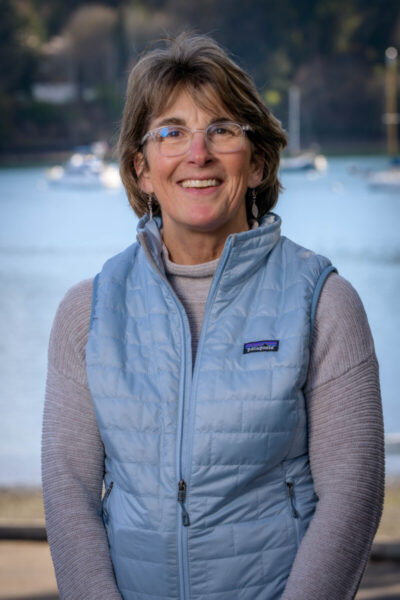 Joanie Ransom, Junior Parent Board Liason Co-Chair
Joanie is a Seattle native, she was born in Seattle and grew up with her five sisters on Mercer Island.  As a youth, Joanie spent many summer months working in her fathers's salmon processing plant in Alaska.  Joanie's family also spent several wonderful summers at their beach cabin on the southend of Bainbridge.  She received a degree in Business from the University of Puget Sound where she was a member of the Varsity Soccer, Ski and Tennis teams.
Joanie and her husband Bill moved to Bainbridge in 2001 and both work in the Real Estate industry.  They love the small community feel of Bainbridge, the easy connection to the outdoors and the safe environment Bainbridge has provided their three children as they have grown up.  Two of their children, Max & Hayley, currently row with BIR on the Varsity Boys & Girls teams.
During her free time, Joanie can be found doing most anything outdoors; swimming, paddleboarding, playing pickleball, skiing, biking, hiking..maybe even rowing someday!
Laura Bottger – Safety Officer
Laura grew up in a small coastal town in Massachusetts. Laura received her B.A. from Amherst College in English. After spending several months in Eastern Europe to witness the aftermath of the Berlin Wall falling and the revolutions in Czechoslovakia and Romania, Laura decided to go to law school. She got her J.D. from Northeastern University. On a whim, she took a co-op job in Anchorage, Alaska and ended up moving there after graduation.
Laura spent her legal career working in the public sector in Alaska. She spent many years as an assistant attorney general for the State of Alaska, first in the Natural Resources section and then in the Opinions, Appeals, and Ethics section. For the last several years of her career, Laura decided to explore a challenge outside the advocate role and joined the Alaska Court System's senior staff as the court rules attorney. There she helped develop and implement new rules and policies to help the court system in its mission to provide a fair and accessible forum for the just resolution of cases.
Laura moved to Bainbridge Island in 2018, knowing she would eventually get involved with BIR. Ten years before, while she and her wife Bonnie were exploring where to retire, Bainbridge scored extra points when Laura saw the banner tacked up on the old tennis court fence noting BIR's junior and masters rowing programs. Decades earlier, Laura had rowed for a couple seasons in college and fell in love with the sport. Falling in love with BIR was even easier. Laura joined the Board in 2022.

Celia Clark
Celia graduated from the University of California, Santa Barbara with degrees in physical geography and environmental science. Upon graduation, she temporarily satiated her wanderlust by sailing on a 36' boat for two years throughout the South Pacific. She returned to work at Oceanographic Services, Inc. as a cartographer and research scientist. Celia moved to Bainbridge Island with her husband Craig and two young children in 1991, excited to have discovered a strong community on a beautiful island.
Craig & Celia own West Sound Properties, Johansson Clark Real Estate. Celia's main responsibility is renovating distressed properties. The Clarks spend most of their free time maintaining their fleet of old boats and exploring the Salish Sea.
The energy and camaraderie of BIR is contagious and the opportunity to row on Eagle Harbor as a master rower is a delightful experience.  Celia joined the BIR Board of Directors in 2019. This is an exciting time for BIR and Celia wants to be involved as the collaborative rowing community strives to build a rowing center to serve Bainbridge Island at large and inclusive of all of the high school athletes through to masters rowers of all ages, including those masters rowing in their 8th decade of life.
Photo to Come
Grant Colburn, BIR Youth Representative
Grant Colburn moved to Bainbridge Island in 2017 from the Twin Cities, Minnesota. After moving to Bainbridge, Grant participated in mountain biking and rock climbing. In the summer of 2019, he signed up for his first "Learn to Row" class and loved it. Grant joined the novice team the next fall and has continued to row since. 
BIR helped Grant find many new friends and become more engaged in the community. The sport has taught him perseverance, teamwork, and commitment. Outside of crew, he is a member of Key Club BHS which participates in and runs community service events. Grant is a fourth-year varsity and a captain on the Boys Varsity Team. Grant joined the BIR Board of Directors in 2023.
Mirén First, Legal
Mirén spent her childhood in a small fishing village on the northern coast of Spain.  After moving to Seattle as a teenager, Mirén was introduced to rowing in high school, first as a coxswain and later as a rower in a lightweight four.  Mirén learned about BIR when a foreign exchange student who spent a year living with Mirén and her family rowed with BIR.  Miren's son and daughter soon followed.  Her son is a coxswain, and her daughter is a rower.   Both have found a wonderful community in BIR.  
Mirén is an attorney whose practice focuses primarily on defending personal injury, property damage, product liability, premises liability, and general liability claims brought against individuals, commercial businesses, and non-profit organizations.  Her practice also includes insurance coverage and insurance bad faith claims.  Before joining Keller Rohrback L.L.P., Mirén was a partner at Wilson Smith Cochran Dickerson and was the founder of First Law, PLLC. 
Mirén holds a BA in Political Science from the University of California at San Diego, and a Juris Doctorate from McGeorge School of Law.  When not working, she continues to pursue her life-long passion of running.  She and her family enjoy traveling, hiking, and downhill and cross-country skiing.

Brandon Fleet – Equipment Committee Chair
Brandon learned to row while attending Rice University on a Navy ROTC scholarship. He was assigned to the Pacific Northwest for submarine duty in the year 2000. While serving onboard the USS Henry M. Jackson, a shipmate told him about a rowing crew that was active on Bainbridge Island. Since joining the crew in 2002, Brandon has enjoyed training, competing, and spending time with the wonderful people who make up the BIR community. Now in his 20th year of continuous membership, Brandon is looking forward to this year's competitive rowing opportunities and to the completion of our long-awaited boathouse in Waterfront Park. He focuses his board activities on managing BIR's rowing equipment.
BIR Board Meeting Minutes
Click to View Past BIR Board Meeting Minutes