Building from The Plan for the Stan Pocock Legacy Rowing Center and putting to work the funds generously donated by our supporters, Bainbridge Island Rowing is now three years into a five-year plan to create and operate the West Sound's first rowing center as part of our ongoing commitment to help rowing change lives.
The starting point for our Waterfront Park rowing center was an old tennis court with a chainlink fence around it, and boat storage that was completely exposed to the variable climate of the Pacific Northwest.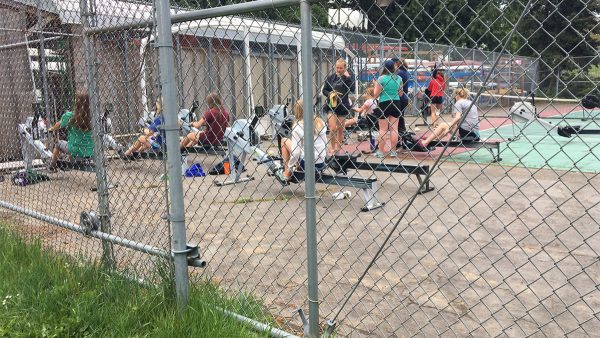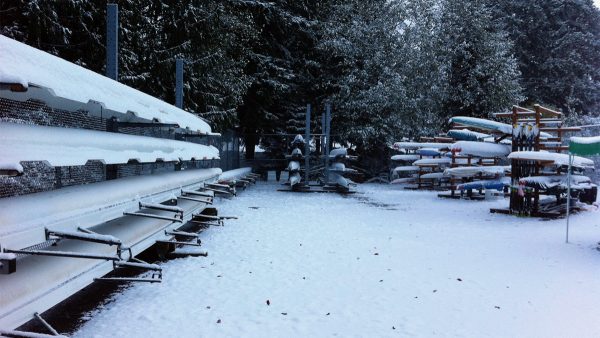 Preparatory Work (Completed March 2016)
| | |
| --- | --- |
| ACTIVITY | DESCRIPTION |
| Land Lease | Completion of 50-year land lease with the City of Bainbridge Island. Approved by City Council. |
| Land Survey | Topographical survey of lease area for property boundaries and utility identification. |
| Geotechnical and Environmental Surveys | Soil boring to evaluate contamination risk: none found. Confirmed standard footings and foundation systems. |
| Utility Assessment | Review of civil engineering issues: none found. |
| Land Use Permit | Submitted conceptual drawings to the City Design Review Board. Received approval for 12,000 square-foot Rowing Center building. |
| Final Land Use Permit | Submitted request to the City Planning Commission. Approved with no objections. |
| Mechanical, Electrical, Plumbing Basic Design | Created basic designs for budget preparation. |
| Construction Budget and Contractor | Selected PHC as General Contractor. Construction budget estimated at $2,940,000. |
| BIR Board Approval | Received BIR Board of Directors' approval of project goals and scope |
Stage One: The Foundation Level
$1.6 million were successfully raised in stage 1 of the rowing center project, and work began in the fall of 2016. The Foundation Level was completed and ceremonially opened in January 2017.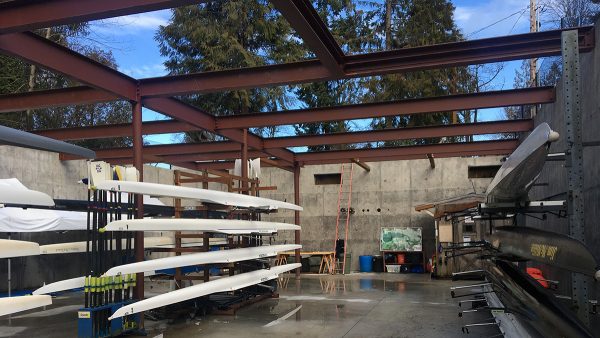 Stage Two: Above Ground/The Upper Level
The final phase of construction completes the infrastructure of the ground floor, adds the second floor, encloses the entire facility, and finishes the interior of the new rowing center. BIR's current goal is to raise the additional $1.34M needed to complete this second and final stage of construction.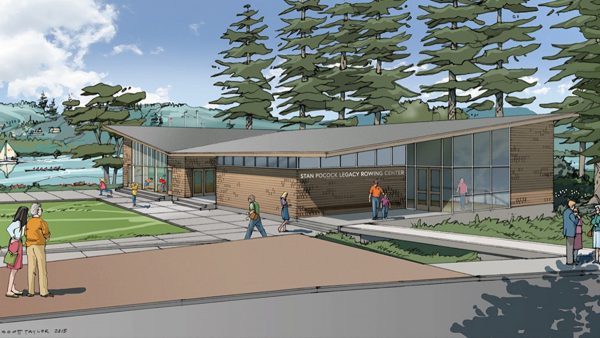 Please join Bainbridge Island Rowing in raising the roof of the Stan Pocock Legacy Rowing Center. The current stage of our fundraising campaign is nearing it's conclusion and every single donation counts…
"Rowing on Bainbridge was the result of the community, the parents, the volunteers standing behind the program and recognizing that an island needs as many sports as it can for the kids. This effort obviously worked. It's a success. I'm very optimistic about following its growth in the years to come."
Thom Hamilton, BIR Founder