Bainbridge Island Rowing is a community-based 501(c)(3) organization working to build a multi-generational Kitsap County rowing community from our base at the Stan Pocock Legacy Rowing Center in Waterfront Park, overlooking beautiful Eagle Harbor.
What began as a dream for a handful of high school students and adults in 2001 has grown into a community of more than 200 junior and masters rowers ranging in age from 14 to 84. Over the past 18 years, BIR has helped change hundreds of lives through the positive physical, psychological, social and sporting impact of rowing. BIR is one of just four grassroots rowing organizations currently serving the 250,000+ residents of Kitsap County, none of which have the all-weather boathouse, indoor training and meeting facilities of a full-service regional rowing center. This facility will provide Kitsap County with a venue for regional regattas, coaching clinics, expanded programs and a spectacular community gathering space.
Through many generous private donations along with a $100k grant from the Pocock Foundation, we have raised over $2.2M of the $3.4M needed to complete construction of the rowing center. Construction of he lower level, including boat/equipment storage areas is now complete. An additional $1.2M gets us to the finish line and will include the upper floor buildout with a workout area/community gathering space overlooking Eagle Harbor, a catering kitchen, locker rooms and offices and classroom. There will also be displays designed to honor the life and legacy of Stan Pocock, and the history of Pacific Northwest rowing along with displays honoring our donors, coaches and rowers.
Your donation will help us to FINISH STRONG and complete this wonderful project.
You can donate to BIR in any of four simple ways:
Online via PayPal using the Donate button below.
Mail a check to BIR at 221 Winslow Way West #102, Bainbridge Island, WA 98110.
Matching funds via your employer (Please contact BIR's Treasurer – Melanie Edenholm with questions).
Stock transfer donations (Please contact BIR's Treasurer – Melanie Edenholm for questions and guidance about donating via stock transfer).
Bainbridge Island Rowing is a 501(c)(3)organization
If you have any questions about any aspect of supporting this project, please contact BIR's Director of Development – Jennifer Ames-Karreman.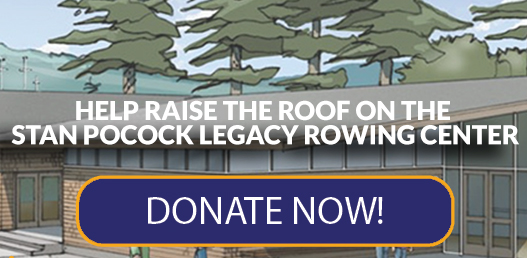 Introducing the Bryson Allen Scholarship Fund

BIR alumni student athlete, Bryson Allen, has left a legacy of passion for the outdoors, and compassion for others, and all who knew him will miss him dearly.  We at BIR continue to be inspired by his grit, growth and leadership skills, both a youth rower and a respected and admired junior team captain. In partnership with his family, we are accepting donations directly into the Bryson Allen Scholarship Fund. The Fund will allow Bryson to share his passion for the sport with any youth rower who wishes to participate, regardless of their ability to cover program fees.