Twenty-six Bainbridge Island Rowing Masters (adult) rowers participated in the Masters Rowing Regionals 2018, known as the USRowing Northwest Masters Championships and held June 22-24 in Vancouver, Washington. Under the most rowing-friendly conditions seen on Vancouver Lake in recent memory, the team competed in 16 events, capturing medals in four including two golds and two silvers.
In five other events, various combinations of BIR's 16 women and 10 men made it to final races under particularly stiff competition this year from 58 other teams, with over 1,000 entries from California to British Columbia and even some from Alaska, Colorado, Arizona, New York, and Maryland. BIR rowers medaled as follows:
Gold medals:
Mixed C (ages 43-49) coxed 4: Nicolai Otte / Brandon Fleet / Janette Ahrndt / Michelle DeCouteau /Addie Taylor, cox
Mixed D (ages 50-54) 8: Addie Taylor, cox/ Chelsea Vessenes / Sue Entress / Kurt Frost / Nicolai Otte / John Foy / Marc Stewart / Tammy Galbraith / Ann Livengood
Silver medals:
Men's B (ages 36-42) coxed 4: Anthony Oddo / Brandon Fleet / Nicolai Otte / Tim Goss / Nikolai Sublett, cox
Men's H+ (ages 70+) coxed 4: Bill McGonagle / Malcom Saunders / John Foy / Dean Dale / Nikolai Sublett, cox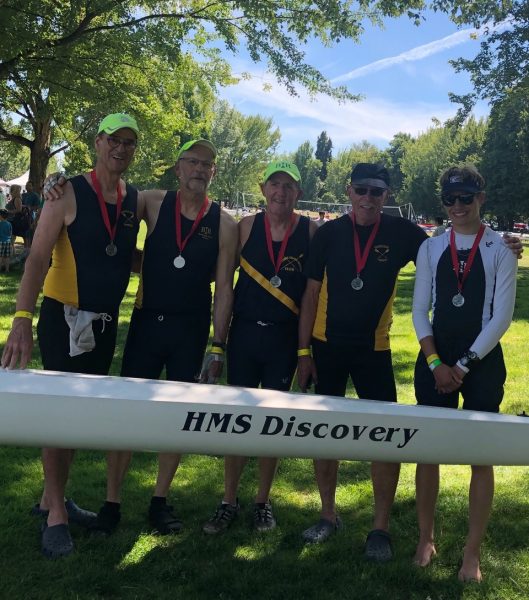 The Masters Rowing Regionals 2018 was the culmination of springtime training both on and off the water. Next up for Bainbridge Island Masters Rowing are the USRowing Masters National Championships at Lake Merritt, CA, August 16-19th.
Pictured at top of page: Mixed C gold medalists: Addie Taylor (cox), Brandon Fleet, Janette Ahrndt, Michelle DeCouteau, Nicolai Otte.