Here are quick answers to some of the Frequently Asked Questions about Bainbridge Island Rowing and the new Stan Pocock Legacy Rowing Center. More detailed answers can be found on all the pages within the Rowing Center section here at bainbridgerowing.org, many of which are linked to below.
Why does Kitsap County need a rowing center?
Since BIR's scrappy start with high school students in a single boat in 2001, we have helped change hundreds of lives through the positive physical, psychological, social and sporting impact of rowing. Though BIR has enjoyed great success both on the water and off, a lack of meeting spaces, training facilities and all-season storage has limited our ability to offer comprehensive programs and services to the West Sound area.
Please click to read more about The Need for the Stan Pocock Legacy Rowing Center here at bainbridgerowing.org.
Why is this rowing center for Kitsap County located in Bainbridge Island's Waterfront Park?

Waterfront Park and its beach are uniquely suited to provide easy access to the waters of Eagle Harbor. The harbor is one of the best bodies of protected water in Kitsap County and provides an excellent course for rowing – both training and racing. The gentle slope down to and into the water makes it an ideal place to launch rowing shells.
Proposed improvements to the nearby City Dock will allow BIR's boat-launching facilities to be further enhanced.
Waterfront Park sits in one of the highest traffic locations in the entire county, situated within walking distance of the State Ferry Dock and its thousands of daily ferry riders, as well as at the nexus of Bainbridge Island's major roads. The new City Dock, and the expanded cruise ship access it provides, now also enhances BIR's ability to be the first point of contact in showcasing the West Sound community to those who visit the area by boat.
Finally, Waterfront Park is just one block away from Winslow Way, Bainbridge Island's commercial hub, and provides easy pedestrian access to a wide array of markets and dining establishments for pre-rowing and post-rowing fun. BIR has operated from this site in partnership with the City of Bainbridge Island since 2005.
For more details on the location of the Stan Pocock Legacy Rowing Center, see The Plan for its creation here on bainbridgerowing.org.
Who will use the rowing center?

Bainbridge Island Rowing's mission is to offer rowing opportunities to every member of the general public and to include all who wish to participate. We offer rowing programs year-round for both high school students and adults and currently have members ranging in age from 14 to 84.
Approximately 200 Juniors and Masters are currently enrolled in the BIR programs. We run active outreach programs to schools and other organizations through Kitsap County and West Sound communities and will be able to greatly expand those efforts with the creation of the Stan Pocock Legacy Rowing Center.
Since its formation in 2001, BIR has always subsidized costs of our Juniors Programs and offered scholarships to extend accessibility and enable high school and adult athletes to participate in rowing, regardless of cost.
Our Learn to Row programs, administered through the Bainbridge Parks and Recreation District, allows athletes of all ages, skill, and fitness levels to be introduced to the basics of rowing along with the positive physical, psychological and social benefits of the sport.
Rowing also helps participants enjoy the beauty of Bainbridge Island's surrounding waters and promotes a healthy respect for the environment through direct personal interaction with it.
Learn more about The Community served by the Stan Pocock Legacy Rowing Center here at bainbridgerowing.org.
Will non-rowers have access to the rowing center?
Absolutely! The lawns and public areas of the Stan Pocock Legacy Rowing Center will be open to the public during operating hours, and the center's large multi-purpose meeting room and adjacent kitchen will be available to the public throughout the year for community gatherings, meetings, and special events. As such, it offers Bainbridge's only waterfront events center rental opportunity.
Stay tuned for details of event rentals at the Stan Pocock Legacy Rowing Center as the final stage of construction begins (hopefully in the Winter of 2019).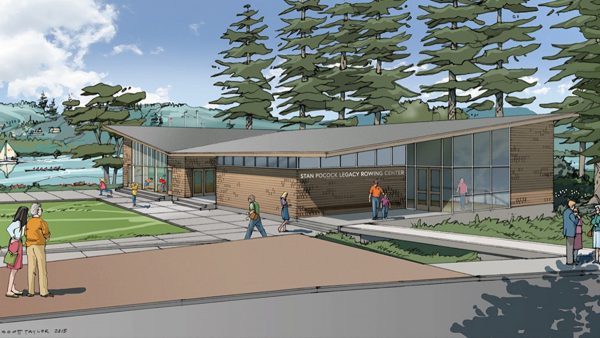 Who will pay for the rowing center?
Bainbridge Island Rowing has already raised more than $1.9M through a vigorous, broad-based fundraising campaign. More than 250 donors have generously supported the Stan Pocock Legacy Rowing Center at multiple levels. We are currently continuing those efforts and also seeking additional major donations from individuals, foundations and corporations interested in supporting rowing and the benefits it brings to communities in the Pacific Northwest.
Our fundraising team is grateful for contributions of all kinds, whether a modest gift, a corporate sponsorship, a public or private grant, or a large charitable donation.
Find out more at the Donations page here at bainbridgerowing.org
What is the anticipated cost of building the rowing center?
$60,000 for pre-construction costs (architectural fees, feasibility testing, and permits)
$1.54 million for the foundation and lower floor boathouse shell
$1.34 million for the addition of the second floor and the completion of all construction on the Stan Pocock Legacy Rowing Center
$1 million to establish an ongoing operating fund (maintenance, utilities, and repairs) to ensure the center's long-term future
For more details on the projected cost of the Stan Pocock Legacy Rowing Center, see The Plan for its creation here on bainbridgerowing.org.
Why was the boathouse foundation constructed before fundraising was complete?
In 2016, the City of Bainbridge Island decided to accelerate their complete renovation of Eagles Harbor's Waterfront Park. The revised plan meant that BIR's excavation work had to be also accelerated to match the City's work or become much more costly than planned.
The result was that BIR broke construction into two stages, pulling together enough financing to synchronize Stage 1 in concert with the City's timeline, through the prompt support of some generous donors and lenders. This allowed BIR's excavated soil to be used for the City's regrade of the park, providing financial and environmental benefits for all.
Rowing Center construction will resume as soon as fundraising for Stage 2 is complete.
Are my donations tax-deductible?
Yes they are. Bainbridge Island Rowing is a registered community nonprofit organization and has successfully maintained 501(c)(3) status for more than 15 years. All annual donations of $250 or more will receive a written acknowledgement from BIR at the end of each calendar year, a document that may be used a receipt for U.S. tax purposes.
Find BIR's Tax ID number, full donor acknowledgement details and filed public reports from our last three years of operations at the 501(c)(3) page here at bainbridgerowing.org.
Why is the new rowing center on Bainbridge Island named after Stan Pocock?

Stan Pocock was a legendary boatbuilder and coach here in the Pacific Northwest, and his legacy is tightly linked with our area. Stan's grand-daughter also rowed for BIR as a member of our juniors program.
The Pocock family has partnered with Bainbridge Island Rowing to name our new facility The Stan Pocock Legacy Rowing Center to honor the memory of Stan. Those who enter his legacy boathouse, whether a novice or master rower, or a community member, will have the opportunity to learn more about the history of rowing in the PNW and Stan's impact on shaping it.
A quote from Stan's memoir Way Enough is immortalized on the plaque celebrating the completion of the rowing center's foundation in January 2017. 
Learn more about the life and legacy of Stan Pocock here at bainbridgerowing.org.