The latest cadre of Bainbridge Island Rowing Learn-to-Row graduates is one of the biggest yet, at 18. They hit the water at Waterfront Park for the July Learn-to-Row intensive, on the 12th, 14th, and 15th. The new high-flying rowers got to experience the lowest tide of the year so far, a minus 3.8 footer, which coincided with their Saturday class.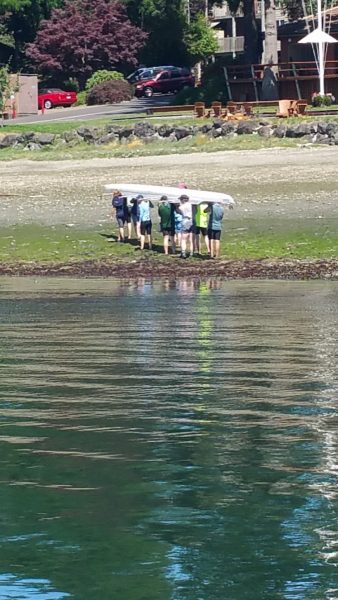 Low tides present some unusual challenges to rowers. One of these challenges is seaweed. Another is muck. The two challenges collaborated to test the resolve of the new rowers who had to slosh through ankle-deep mud and a bumper crop of seaweed to carry the boats, three eights, out to the water. The tide was so low that the launches, which, commandeered by coaches, accompany the rowers, couldn't be put away until the tide came in.
But the new rowers were undeterred and returned eagerly to Eagle Harbor the following morning at high tide, for an easier experience, including calm winds. Later that morning they participated in a three-boat race.
The latest Learn-to-Row graduates are Katherine Carvajal, Luis Carvajal, Sarah Footh, Brent Gray, Eleanor Gray, Ellen Hresko, Amy Driggers-Janof, Nate May, Monica Piasta, Laura Sachs, Marie Sachs, Jennifer Saks, Mike Sharp, Marian Silberstein, Kimberly Sylvester, Shannon Taylor, Faith Watson, and Polly Young. All 18 are entitled to two complimentary rows as part of the Learn-to-Row program.
Interested in joining the new high-flying rowers? If there is more demand for Learn-to-Row sessions, BIR will organize another one-day Learn to Row class for later this summer or early fall. If interested, email learntorow@bainbridgerowing.org.