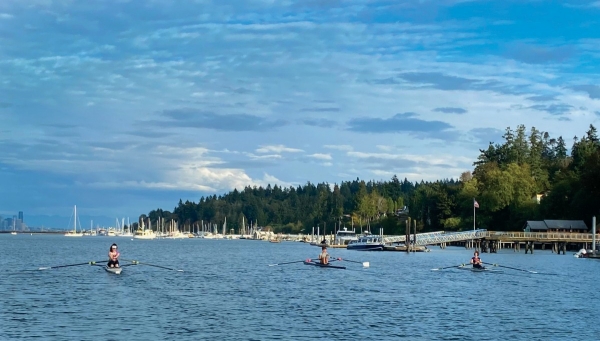 Spring Crew 2021 is happening!
Registration for Experience Junior Rowers is now open. For novice (never rowed before) youth rowers in grades 9-12…stay tuned. We're setting up a mid March to mid May program to introduce you to the sport! Information and registration links are all here. Please read everything thoroughly. We're thrilled to be able to run our programs safely, but it's going to be a TEAM EFFORT! 
2021 JUNIOR SPRING SEASON AT A GLANCE:
Spring Crew programs will be available for both "Novice" (never rowed before) and "Experienced" junior rowers.
PLEASE NOTE:
Spring season will focus on proficiency in single shells and possibly two-person boats. After WA State moves to Phase 2, COVID-19 Safe Start Guidelines, and only if deemed safe by our BIR COVID Safety Committee and BIR Board, 4+ boats, will be introduced using pre-set "pods" of 4 – 6 athletes. Rowers will have the option to remain in single shells if desired.
Plan to use face masks on and of the water at all times.
Head Coaches:
Boys: Bruce Beall
directorofrowing@bainbridgerowing.org
Girls: Chelsea Vessenes
coachchelsea@bainbridgerowing.org
PROGRAMS:
Experienced Rowers:
February 1 – May 14
Novice Rowers:
(Those who have never rowed before)
March 22 – May 14
Stay tuned -more info. to come!
PRACTICE DAYS/TIMES:
EXPERIENCE ROWERS: Practices will take place after school between the hours of 4:10 and 6:10 (rowers will be notified of their shifts).
Practice will be 2x/week from Feb. 1 – 12 and 5x/week from Feb. 22 – May 14.
Feb. 1 – Feb 12:
Girls: Mon and Wed.
Boys: Tues and Thurs.
Feb. 22 – May 14th:
Monday – Friday (5x/week). Locations will vary.
Experienced Rowers' Parent Orientation (if you missed orientation please reach out to a coach and we'll get you the info you need).
Sun. January 31, 7pm via Zoom (registered rowers will be given the zoom link)
2021 SPRING JUNIOR PROGRAM COSTS:
DUES:
2021 Annual Dues are $95 and cover the entire calendar year.
PROGRAM FEES:
Experienced Junior program: $980.
Novice Program: TBD
This fee reflects the expense of a 1:6 coach to rower ratio needed for a single-shell/small-boat based Spring program.
REGATTA/SCRIMMAGE FEES:
NEW THIS SPRING: We are assessing regatta/scrimmage fees separately based on the COVID-19 safety of Spring events. Fees are expected to be nominal and will be communicated when we know more.
Payment Plans:
Fees can be paid in full or split into two payments, due by Feb. 1 and March 15.
SCHOLARSHIPS
Need-based scholarships are available for all who
qualify and are handled with complete privacy
through Helpline House. Learn more by visiting:
www.bainbridgerowing.org>Programs>Scholarships
REFUND POLICY
Week 1-4: Full Refund (No refunds after Feb. 28).
REGISTRATION REQUIREMENTS:
1) Proof of Current Health Physical(within 2 years and not ending during the season). This form will be uploaded during registration.
2) Registration and payment via online link: Visit our website at www.bainbridgerowing.org
3) USRowing Membership: Basic $9.75 membership is required for Spring 2021. BIR's USRowing club code: KRCBC. Confirm your USRowing membership status at: http://www.usrowing.org/
COVID19 SAFETY PROTOCOL
Bainbridge Island Rowing is working hard to offer programs to our community that are both safe and meaningful for both rowers and coaches. Needless to say, during the current pandemic, this requires care and effort from everyone involved. Below is an outline of the procedures and plans in place for our Junior Spring Crew program. Our goal is to provide a program that will continue under current COVID mandates.
SEASON OVERVIEW:
FEB. 1-12: 2x weekly practice will focus on erg and running based, land-training both at Waterfront Park or other outdoor venues.
FEB. 15-19: BHS Midwinter Break
APRIL 5-9: BHS Spring Break
FEB. 22-MAY 14: Rowers will be assigned to pods of up to 6 members for land and on-water activities. Rowers (with parental permission) will be given the option of being paired with a pod-mate and allowed to row in two-person boats.
SCRIMMAGES:
Local scrimmages will be planned as possible and in compliance with WA State COVID-19 guidelines. The goal will be challenging and fun opportunities to row with local teams in various venues.
REGATTAS:
As of now, all formal March – April regattas have been canceled. Our BIR coaches are committed to and fun, meaningful competitive alternatives.
WHAT TO EXPECT:
All rowers are expected to adhere to the COVID-19 Safety Protocol followed in Fall 2020.
IMPORTANT! PLEASE NOTE: After out-of-state travel, rowers must quarantine for 14 days OR for 7 days followed by a negative COVID-19 test. PLEASE KEEP THIS IN MIND IF PLANNING WINTER-BREAK OR SPRING-BREAK TRAVEL.
MASKS: Properly fitting double-layer cloth or medical-grade masks must be worn at all times. This is a WA State mandate. Coaches will have suggestions on how to effectively exercise with masks, including the use of inner "mask brackets" to allow for easier breathing.
INDOOR WORKOUTS: BIR is now allowed to conduct indoor workouts (at the Rowing Center). Indoor erging and cross training will follow State guidelines requiring 500 sq. ft. per person during workouts and adequate ventilation will be provided. Thank you to the BIR Safety Committee for their hard work! Rowers may use the porch or lawn if they are not comfortable with indoor workouts.
PODS: Rowers will be assigned to pods of up to 6 teammates. Pod assignment will be based on rower experience. Reassignment will be kept to a minimum.
PAIRS AND DOUBLES: Junior rowers (with parental consent – even if they are over the age of 18) are permitted to row in pairs and doubles with a pre-determined and consistent partner from their pod. Masks will be worn AT ALL TIMES. Rowers will be given the option of remaining in single-shells.
PHASE 2/FOUR PERSON BOATS: When/if the WA State Department of Health declares it safe to proceed to "Phase 2 for Youth Sporting Activities", BIR coaches will work with our COVID-19 Safety Committee to evaluate the safety of rowing in four-person boats. If larger boats are utilized, rowers will also have the option to remain in single boats for the duration of the season.