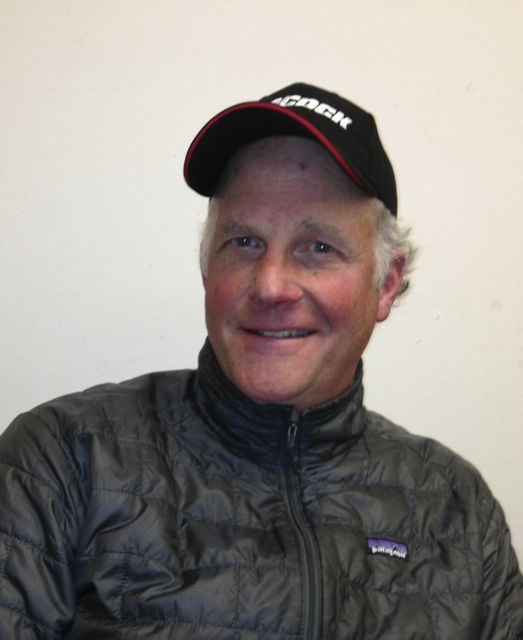 Bruce Beall – Director of Rowing & Varsity Boys Coach
Bruce has had a storied rowing career both as a competitor and as a coach.  He rowed for the University of Washington from 1970-73, where he won a silver medal in the Pan American Games in the Men's 8+ and earned a place in the UW Athletic Hall of Fame. Among his many competitive achievements are appearances at the following:
European Championships, Moscow 1973 Pair w/coxswain
World Rowing Championships, Lucerne 1974 Four w/o coxswain
Pan American Games, San Juan 1979 Bronze Medal Quadruple Sculls
World Rowing Championships, 1983 Sculling Team
Olympic Games, 1984 Quadruple Sculls
Bruce's coaching career began in 1974 at Boston University. In the 1980s he moved on to Harvard University to work with the Varsity Lightweight Men's crew, followed by a stint as Program Director and Varsity Men's coach at the Massachusetts Institute of Technology.
A subsequent move to the west coast resulted in a coaching position at the University of California at Berkeley from 1988-92 and then as Executive Director/Director of Rowing for the first 12 years of the Pocock Foundation's existence. Bruce coached both the US Lightweight Men's Four at the 1983 World Rowing Championships and the Heavyweight Men's Quad at the 1987 World Rowing Championships.
Bruce was one of the co-founders of the CRASH-B World Indoor Rowing Championships, authored the Athletes Column in the national rowing magazine for 4 years, served 2 terms on the USRowing Board of Directors, and was a member of the USRowing High Performance Committee for the 4 years leading up to the Athens Olympics.
As a coach for the BIR Varsity Boys, Bruce has taken his boys in the BIR boat to Nationals almost every year over the past decade, highlights have included the Lightweight 4+ earning a silver medal in 2013, and the Heavyweight 4+ finishing 8th in the nation in 2014. He currently organizes a college recruiting fair every summer bringing 30+ college coaches from around the country in July first to Seattle and then to Oakland.

Nicolai Otte – Varsity Boys Coach & Head Masters Coach
Nicolai took his first stroke at South Eugene Rowing Club's summer camp. The rush of his first race at the Frostbite Regatta (in 25 degree weather!) awoke something inside of him. His first 2K test boosted his confidence and willingness to endure pain, and a developing identity as a 7 seat sealed the deal.
Nico competed primarily as a Lightweight in high school but was drawn both to the DIII crew program and the generous dining hall of Lewis and Clark College. Morning practice on Portland's Willamette River and 10K Erg breaks during all-nighters in the library got him across the graduation finish line with a degree in German Studies in 2009. Nico parlayed the byproducts of college rowing – a strong back and a flexible sleep schedule – into a five-year career as an artisanal bread baker, concurrent with coaching the novice crews for SERC/OAR in Eugene, OR.
Over 12 years of competing and coaching Nic has rowed and worked under more than 30 coaches and has raced throughout the west coast in every boat class. Though he can recall almost every race, victories at Brentwood, the San Diego Crew Classic, NW Junior Regionals, NW Conference Championships, and WIRA stand out, fueling his passion for the sport and for sharing that passion with athletes of all kinds.
Nicolai is thrilled to be living on stunning Bainbridge Island and continuing his professional development alongside a team of fellow committed and knowledgeable coaches…

Chelsea Vessenes – Head Varsity Girls Coach
Chelsea is a competitive rower with not only a passion for the sport but, through her own experience and that of her children, a solid compassion for and understanding of the unique challenges of student athletes. Her talent for rowing was born on the Stanford University crew team and has continued into her daily life on Bainbridge Island where, in addition to participating at nationally competitive regattas such as US Masters Nationals, Opening Day/Windermere Cup, Head of the Lake, and Head of the Charles, you will often see her out on Eagle Harbor practicing with our BIR masters rowers.

Sue Entress – Novice Girls Coach
Sue's involvement with Bainbridge Island Rowing began 12 years ago, when her then 14-year-old son was introduced to the sport through the BIR juniors program. She fell in love with the sport and learned to row herself right here at BIR! She's the proud parent of 3 kids (two are BIR junior alumni rowers) and has gained a deep appreciation of the specific challenges and rewards of being a high school student-athlete. In addition to coaching, she continues to compete with the BIR masters and has participated in US Masters Nationals, Opening Day/Windermere Cup, Head/Tail of the Gorge, Head of the Lake, and Head of the Charles Regattas.
She joined the BIR Board of Directors in 2016 and was served as Board President from 2017 – 2020 before stepping into the role of BIR Communications Chair. She enjoys not only her time on the water with youths and adults, ranging in age from 14 to 87, but also the strong sense of community gained from the welcoming, inclusive program.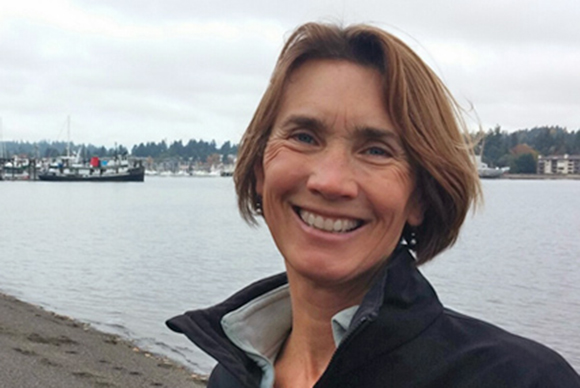 Barb Trafton – Varsity Girls Mentor Coach
While a student at Princeton, Barb rowed for four years in the first varsity boat, winning the Eastern Sprints her senior year. She was selected to the U.S. Under-23 Team in 1983 and went on to win a silver medal at the FISA World Championships in 1984 as the lightweight single sculler. In 1985, she finished fourth at the World Championships with the USA double. Barb served on the U.S. Rowing National Lightweight Committee for many years, pushing to get lightweight women's rowing into the Olympics—which finally occurred in 1992. She served as Varsity Girls coach for 5 years, before becoming the executive director of the Bainbridge Island Parks Foundation.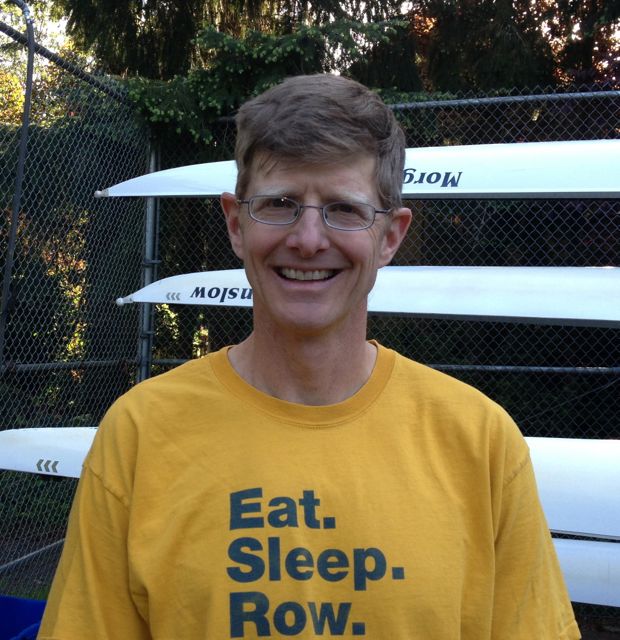 Tim Goss – Head Juniors Coach & Novice Boys Coach
Tim joined BIR as the Juniors Novice coach and as a sculler in 2008. As the program has grown, he has continued to lead the Novice Boys and has taken on head coaching responsibilities for the Juniors program. He also rows regularly with the Masters men, including most recently in the 4+ BIR sent to Head of the Charles Regatta.
Growing up, Tim's main sport was nordic ski racing. On a whim, he first tried rowing in high school at Andover. He continued skiing and rowing at Williams College where his Lightweight 4+ was second at the Dad Vail Regatta, the division III championships at the time. After graduation, Tim coached crew at Lakeside Academy in Seattle, which included his first trip to the Brentwood Regatta in B.C.
Work and small kids intervened, and apart from rowing a single in circles on Green Lake, he did little rowing until his oldest child joined the fledgling BIR club as a high school rower. Tim reconnected with the sport at BIR and has been hooked ever since, enjoying the coaching, the rowing, and the wonderful community of like-minded folks.

Tom Coble – Adult Program (Masters) Coach
Tom and his wife Linda have been an active part of the Bainbridge community for more than 20 years. Prior to that, Tom was a partner in a Behavioral Consulting firm headquartered in Los Angeles until his retirement in 2009. Tom has a B.A. from California State University in Communications and a Masters in Human Resources and Organizational Development from San Francisco University.
Tom came to rowing indirectly through his son who rowed in high school and at university. He came directly to the sport after retirement and soon moved from sweep boats to sculling, where you will find him when out on the water today.
Tom was President of the Bainbridge Island Rowing Board from 2010 to 2013. He currently serves on the Board as the liaison with the City of Bainbridge Island for the new Stan Pocock Rowing Center.
When not on the water or in the boatyard, Tom can be found chasing fish with a fly rod, singing with the Bainbridge Chorale, making a mess (and good food) in the kitchen, and trying to keep the forest at bay from the house.
Helping Bainbridge Island Rowing continue to grow and succeed is his passion.
Redge Campbell – Adult Program (Masters) Coach
"A coach is someone who always makes you do what you don't want to do, so you can be who you've always wanted to be".
Leeman Bennett
Contact the BIR Coaches
SaveSave